The stone fireplace, with its rough-hewn wooden mantel
The stone fireplace, with its rough-hewn wooden mantel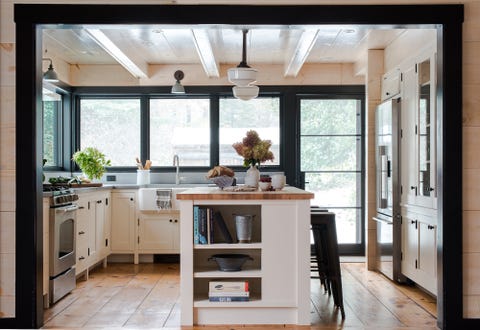 The stone fireplace, with its rough-hewn wooden mantel,
is also original to the space, as are the porcelain sinks in the kids' bathroom upstairs.
The kids' area is situated in a brand-new dormer lofted above the original space.
In the master bath, a dramatic shower features tiles by Marrakech Design.
The kitchen was designed by LAMAS, with the assistance of dedicated local millworker Wayne Tobin,
who drew and redrew his plans by hand to get all the details just-so.
The appliances are from Miele, GE, LG, and Fisher & Paykel.
The light fixtures are mostly from Schoolhouse Electric, with the exception of the Minka ceiling fans.
Before getting started on the house, LAMAS dealt with the surrounding land. Camp Kent,
lodged in a hilly part of the Connecticut countryside,
needed to be regraded in order to put in a driveway that would be accessible when ice and snow made the terrain treacherous.
They created a winding driveway in place of the steep trails one-time campers would have used,
and moved a small outbuilding, a potting shed, to the edge of the driveway next to the house,
where its weathered shingle harmonizes with the red-brown pine cladding on the exterior of the house,
faithfully matched to the original by contractor John W. Dinneen & Son. ออกแบบบ้าน