"I wanted to try to make all the rooms geometrically perfect,"
"I wanted to try to make all the rooms geometrically perfect,"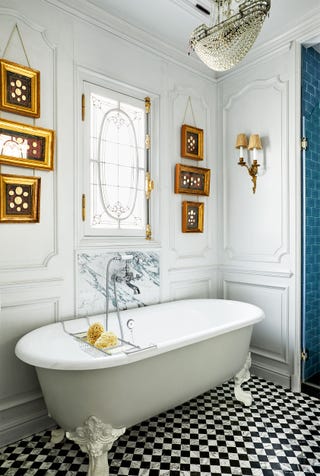 If his choice for the floors was intentional, other early elements were more serendipitous.
The designer hadn't considered installing etched glass, for example,
but when he stumbled across some old windows from the Hôtel Lutetia at an antiques shop in Paris,
he realized they would add interest and coherence to the apartment's two bath rooms .
Equally exciting was the moment he came across the massive French Regency fireplace that now anchors the salon.
"I wasn't even sure that I wanted a fireplace,"
he says. "But you find something like that, and one thing leads to the next.
Once I had that fireplace, for example, I had to make sure that the moldings were coherent with it,
so they became Regency instead of Louis XVI."
Yet with the architectural elements in place, the designer suddenly found himself worrying that fate had led him too far astray.
"All the walls had moldings. The etched glass, the fireplace, the doors—I had found them all in Paris.
So now, even with those marble floors from Seville, I thought it was turning out too refined, too Parisian,"
he recalls with a chuckle.
"That's when I decided to make the decorative elements a bit more folk."
He chose what he calls "less pretentious" wicker for the salon's seating and opted for a leafy hand-painted Zuber wallpaper for the bedroom,
which added a garden ambience.
Instead of hiding the coffeepot and other household items behind cabinets,
he keeps them on display in the kitchen to give it a country feel.
ออกแบบบ้าน